Check Engine Light Wiring
Check Engine Light Wiring Page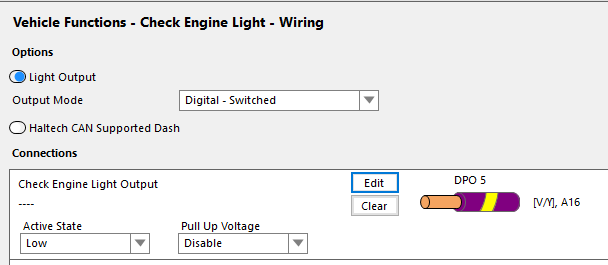 Options

Light Output


Enables or disables Check Engine Light function


Output Mode


Digital - Switched


A check engine light can be configured to via an ECU DPO according to your needs.


CAN Output - Switched


Using the CAN output for check engine light can be used to activate a factory CEL


Haltech CAN Supported Dash


Enabling this option will enable the display of the check engine light where a Haltech CAN supported dash is used



Related Articles

Check Engine Light

The Check Engine Light (CEL) function is used to display a light or warning to the driver that an error or fault condition exists in the Elite ECU. If the Knock Detection function is enabled it can also be configured to flash the CEL when the engine ...

Check Engine Light

Check Engine Light Page Diagnostic Trouble Codes Activation Criteria Current DTCs only Check Engine Light will show only illuminate when Diagnostic Trouble Codes are presented on the current engine run cycle Current and past DTCs Check Engine Light ...

Check Sensors

Once you can go Online with the Elite Software Programmer, the next step is to check the various sensors connected. The easiest to check is the TPS. Move the throttle and check for movement of the TPS signal. Take the opportunity to calibrate your ...

How to use a timing light

In this article we tackle one of the most requested topics – timing lights. It may be basic knowledge for many but it seems there's still a lot of confusion surrounding the correct use of a timing light. What is it? A stroboscopic or timing light is ...

VQ35DE Engine

Although there are a number of variants of this engine designed for low rpm torque over performance, it is only the 350Z/Skyline based variants that are the focus here. Haltech ECU Options The only model that supports this engine is the Elite 2500 ...