When it came time to breathe new life into this classic Jeep Wagoneer, there was no better alternative than upgrading to the 7″ colour display. With its digital fuel gauge, customisable screen layouts and plug and play compatibility with other Haltech CAN devices, this was a no-brainer. Let's walk you through the process!

We need to scout out our sensor locations, luckily a quick web search found us the factory locations for most of these. The
oil pressure sensor is a 0-150 psi transducer
with a 1/8″ NPT connection; this will easily install the factory location on the passenger side of the engine block. A quick cleaning, a dab of paste, and we are ready to tighten and connect it to our standalone harness.
Finally, the
fuel pressure sensor
will go into our factory soft line connection just before the carburettor. A brass inline gauge port tee provides the 1/8″ NPT port required to install the sensor.
NOTE: This sensor is rated up to 150 psi and although this application is carbureted (5-7 psi), it will also work great for mechanical systems that see much higher pressure readings.

Optional Upgrades:
Now it's time to get this thing in the air, as mentioned earlier, a
WB2 wideband oxygen sensor module
is going to be installed in the factory dual exhaust. While we are limited on tuning with the factory 2-BBL carburettor, the owner plans to use an aftermarket intake and 4-BBL carburettor in the future.
These sensors will be an awesome tool for dialling in performance after those upgrades. A good rule of thumb is to place the bung/sensor approximately 6-10″ AFTER the merge on one bank. For this application, that means after the manifold collector for each side.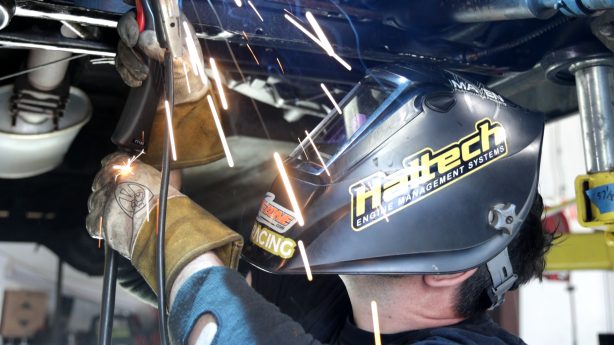 Let's also mention the fuel level sender while it's in the air, the "FUEL LEVEL" input includes a pre-terminated connector and a flying lead wire. This gives you the ability to create a harness for your sending unit that can easily be disconnected if you need to drop/service the fuel tank. The ICC software is pre-programmed with a ton of popular ohm ranges, but a custom calibration table is included if needed.
With the Jeep back on all four, it was time to install the tire pressure monitors. Haltech offers both
internal
or
external sensors
, but for ease of installation and quick interchangeability, we opted for external units. No calibration is needed once the
TMS-4 module
is connected to our display using the included CAN cable.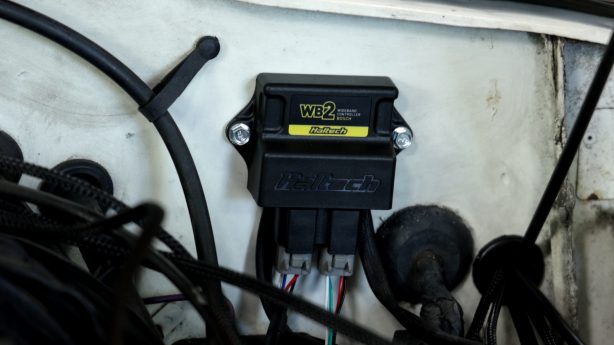 Now it's time to mount our
WB2
and
TMS-4
modules on the firewall, this gives us easy access to connect our CAN cables and connections for the dual wideband oxygen sensors.
Wrapping Up Under Hood: The only other thing to do under-hood is to wire in our engine speed input (Tach), luckily our factory ignition coil had a provision for a tach wire even though the stock instrument cluster didn't show RPM. A quick spade connection on the standalone harness and we were finished with the engine bay.
---
In-Cabin Wiring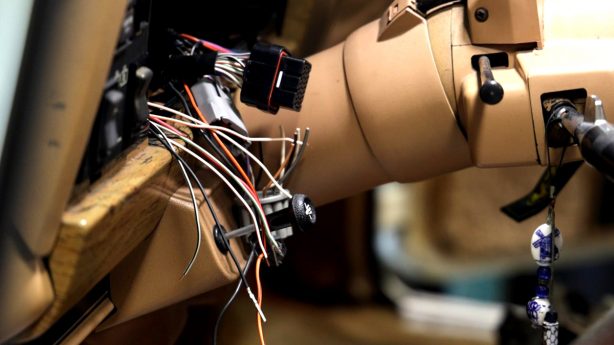 With our engine bay wiring and sensor installations complete, it was time to tackle removing the factory cluster and modifying the harness to adapt to our iC-7 display. Our Wagoneer used a mechanical speedometer cable, but after years of reliable service, it was time to upgrade to the
GPS speed input module
.
This plug-and-play device mounts an antenna with a single cable connection and calibrates with a simple check box in the Haltech ICC software. Not only will it register GPS speed (in mph or kph), it can also be used for odometer and trip meter readings.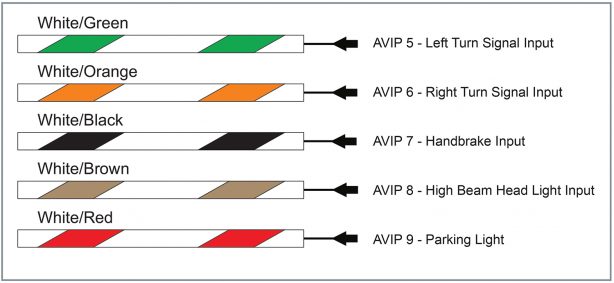 The factory cluster wiring gave us a nice selection to tap into for our accessories, including turn signals, high/low beam, and our fuel sender wire. We should note that with the exception of the fuel sender and the handbrake connection, all other inputs will be positive trigger-based. Reference the diagram below for an example of how to wire up your parking lights.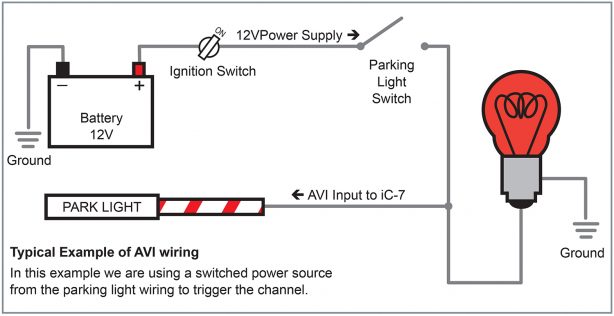 While a swarm of butt connectors could do the job, we felt it was better to wire in an 8-pin Deutch connector. This not only cleans up our dash wiring but also provides a simple disconnect in the event we need to remove our dash in the future. While we were at it, we ran the switched +12v and ground connections to our fuse block wrapping up all of our wiring.
Final Details

With the dash wiring completed, the only thing left to do was mount our 7-inch display. Using a
universal moulded panel (sold separately),
we created a bezel that attached to the rear of the iC7 and allowed the cables to pass through. After making a few measurements and trimming, the bezel could use the factory mounting points and fit snugly into the Grand Wagoneer's dash.
And we're done! The final step was to connect to our iC7 display through the included USB communication cable and load the new standalone firmware through ICC. If you're unfamiliar with our software package, read on to learn more about configuring sensors as well as other inputs!
Direct Inputs Setup in the ICC Software



Loading iC-7's Standalone Default

From the main screen click on the "Load Defaults" menu and select "Standalone".