IQ3 Street - Adding Haltech GPS
Configuration settings for using a Haltech GPS kit (HT-011310) on a Racepak or Haltech IQ3 Street dash:

Wire signal into dash pin 32
Sensor type = "HE RPM Input"

Raw data value B will become = 24

Pullup resistor = Off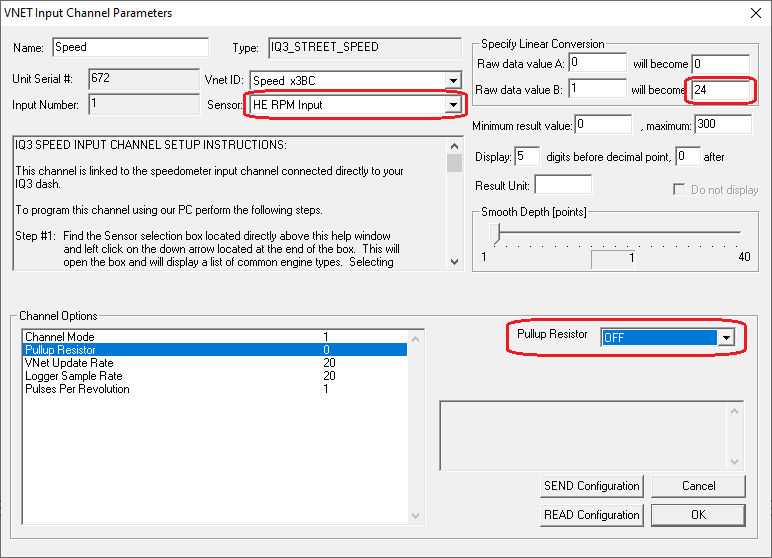 Related Articles

Haltech IQ3 Street 'Firmware Error'

If you have received a message saying 'Firmware Error' on your screen, try the following method to restore your dash. Step 1. Reboot your laptop and ensure no other tuning software programs are open (eg. Haltech NSP, HPTuners, PCLink). Some software ...

How to connect and set up your IQ3 Street Dash

The Haltech IQ3 Street dash is relatively simple to connect and set up. When configured correctly it'll provide you with years of problem-free display and logging performance. There are two types of the IQ3 Street dash: Display and Logger. The ...

Haltech ECU Comparison Table

STILL UNSURE? If you've narrowed your choice down to a couple of ECUs but want to confirm you've made the right decision contact our Tech Support Hotline. Remember, our goal is not to just sell you any ECU, we want to provide you with an ECU that's ...

Haltech CAN System

Haltech CAN System This node allows any CAN Devices to be enabled and for a DTC Severity level to be set for each device. Displays If you have a Haltech CAN Supported Dash it will need to be enabled in this page by clicking the Tick box for the: ...

Haltech PD-16 CAN Protocol

Multiplexing We're sending and receiving a lot of data. We'll multiplex our CAN messages to consume as few CAN IDs as possible. If a message is multiplexed then the first byte will be a multiplex ID used to identify the payload. The Multiplex ID has ...