Wastegate Valve Position Sensor 1/2
A Wastegate Valve Position Sensor can be used to monitor wastegate valve position and behaviour. It can be used to diagnose manifold pressure balance issues in twin-turbo applications and give insight into wastegate flow characteristics.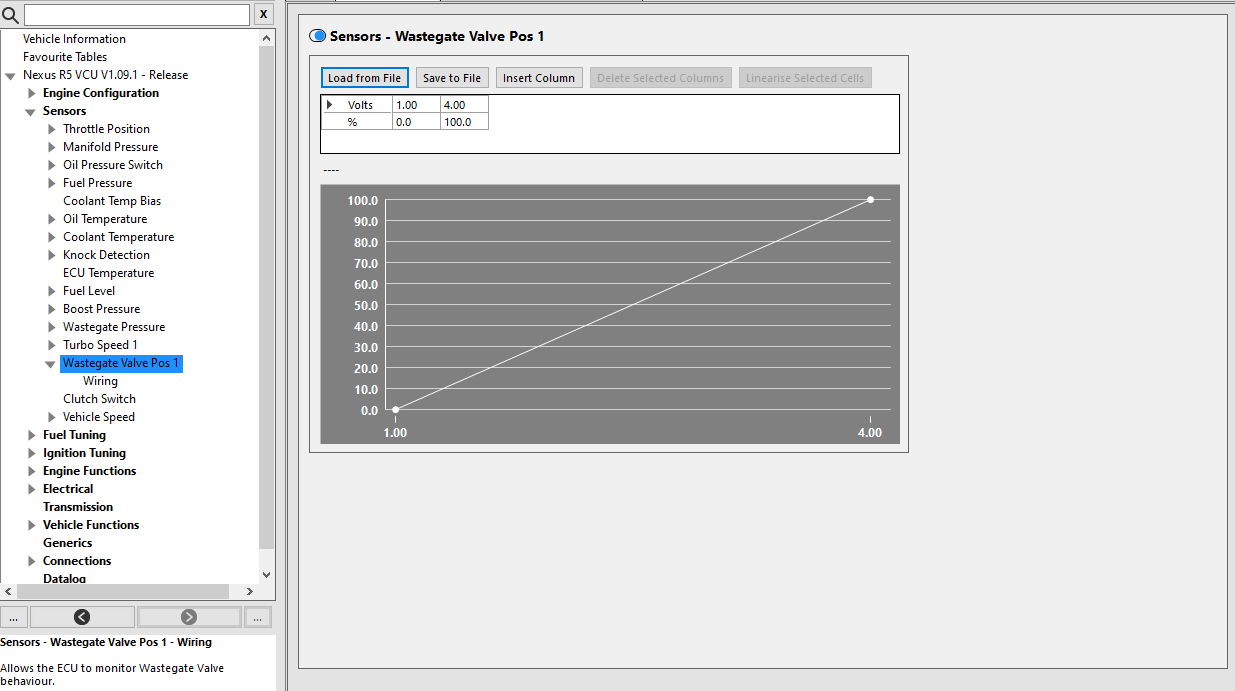 On this node, the Wastegate Valve Position calibration can be entered. This calibration would normally be sourced from the wastegate manufacturer, or calibrated with the wastegate on the bench with the spring removed.
Wiring


This node allows you to assign the input for the Wastegate Valve Position sensor.

Wastegate Valve Position sensors use an Analog Input. Any available AVI can be used.
It is recommended to disable the Pull Up.
Related Articles

Wastegate Valve Position Sensor

A Wastegate Valve Position Sensor can be used to monitor wastegate behaviour. Page Contents Wiring Tab Connections Wastegate Valve Position Input(s) AVI Pull up SPI Sensor Type Pull up Calibration Tab Wiring Tab Connections Wastegate Valve Position ...

Wastegate Pressure Sensor

The Wastegate Pressure Sensor function allows for monitoring of the pressure acting on top of the wastegate diaphragm. This pressure value is used as the controlled parameter when using CO2 Boost Control. Also known as 'Dome Pressure' or 'Hat ...

Throttle Position Sensor input

The throttle position sensor is mounted to the throttle butterfly shaft to measure its rotation. A TPS is common on many late model engines and the Haltech sensor should attach with little or no modification. The throttle shaft must protrude from the ...

Throttle Position Sensor - Finding the Correct Wiring

This guide is to help find the correct wiring of a Throttle Position Sensor (here in referred to as a TPS) when the information is not provided by the manufacturer. What is a TPS? A TPS provides throttle opening angle information the engine ...

Selector Position

Selector Position The Selector Position node is only available if Selector Position Type is set to Voltage Input in the Gear Detection function This node allows for the Selector Position Sensor calibration to be created. By pressing the Calibrate ...