Today's subject is Base Maps: what to expect and when to use one.

Default Map

When you go online with your Haltech ECU for the first time it will already have a preloaded Default Map. A Default Map has all the tuning maps, settings and functions initialised with general values which give the tuner a good idea of what each value should be as well as the rough shape that each map should have.
This Default Map alone helps to get things rolling as each default value is a general guide as to what's expected for each input value. It would be much, much harder if all the values in the ECU were set to zero – not to mention a hell of a lot more typing!
If you are working on a unique, one-off or experimental engine you'd be best off working from the Default Map, however, if you have an engine that's a little more common odds are we already have a Base Map to suit.
Base Map

A Base map, as the name suggests isa base to start working from in order to get your engine up and running as quickly and easily as possible. A Base Map has as much information entered as possible, leaving only the settings unique to your setup left to add in. For example, let's look at a GM LS2 Base Map.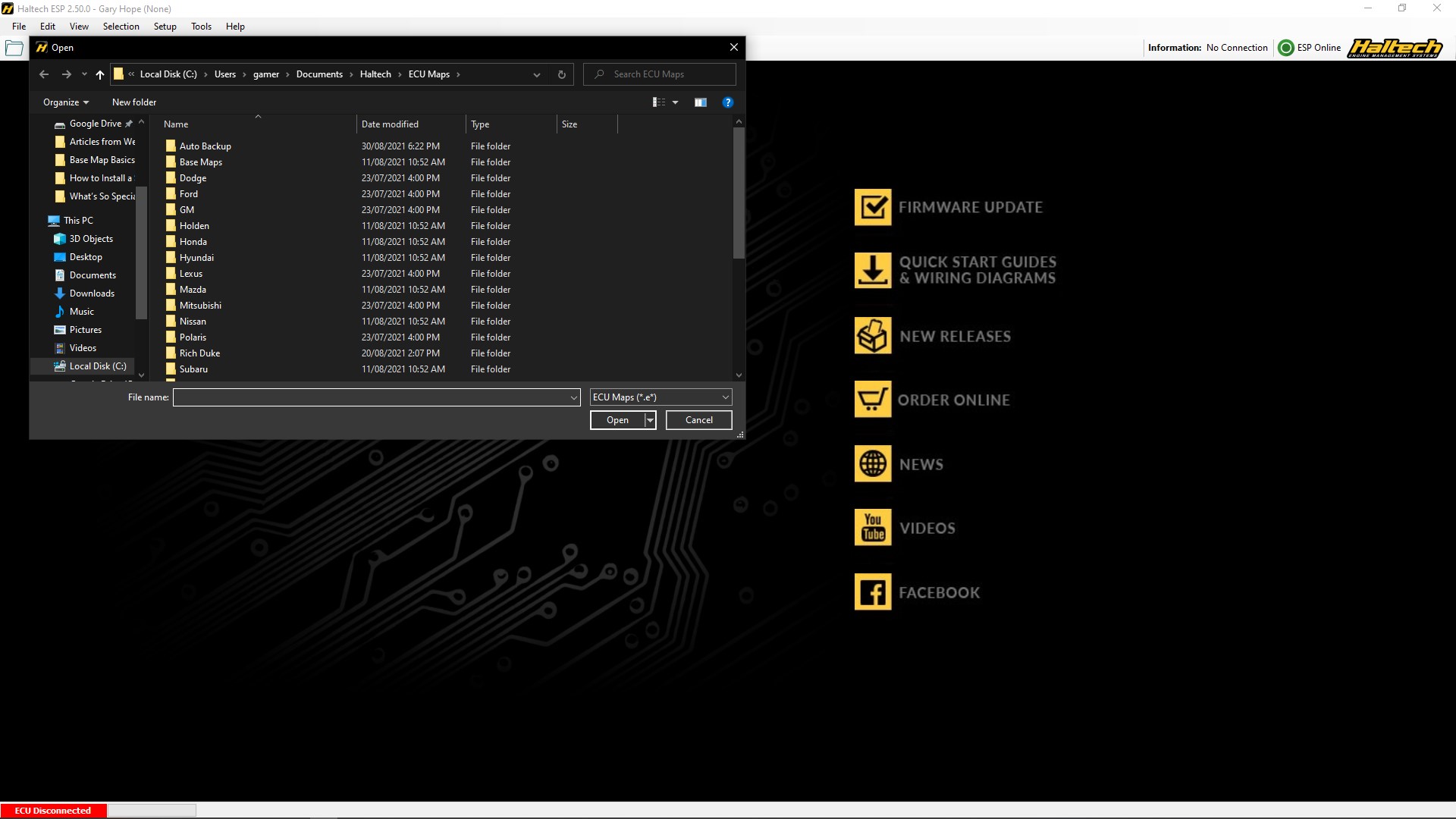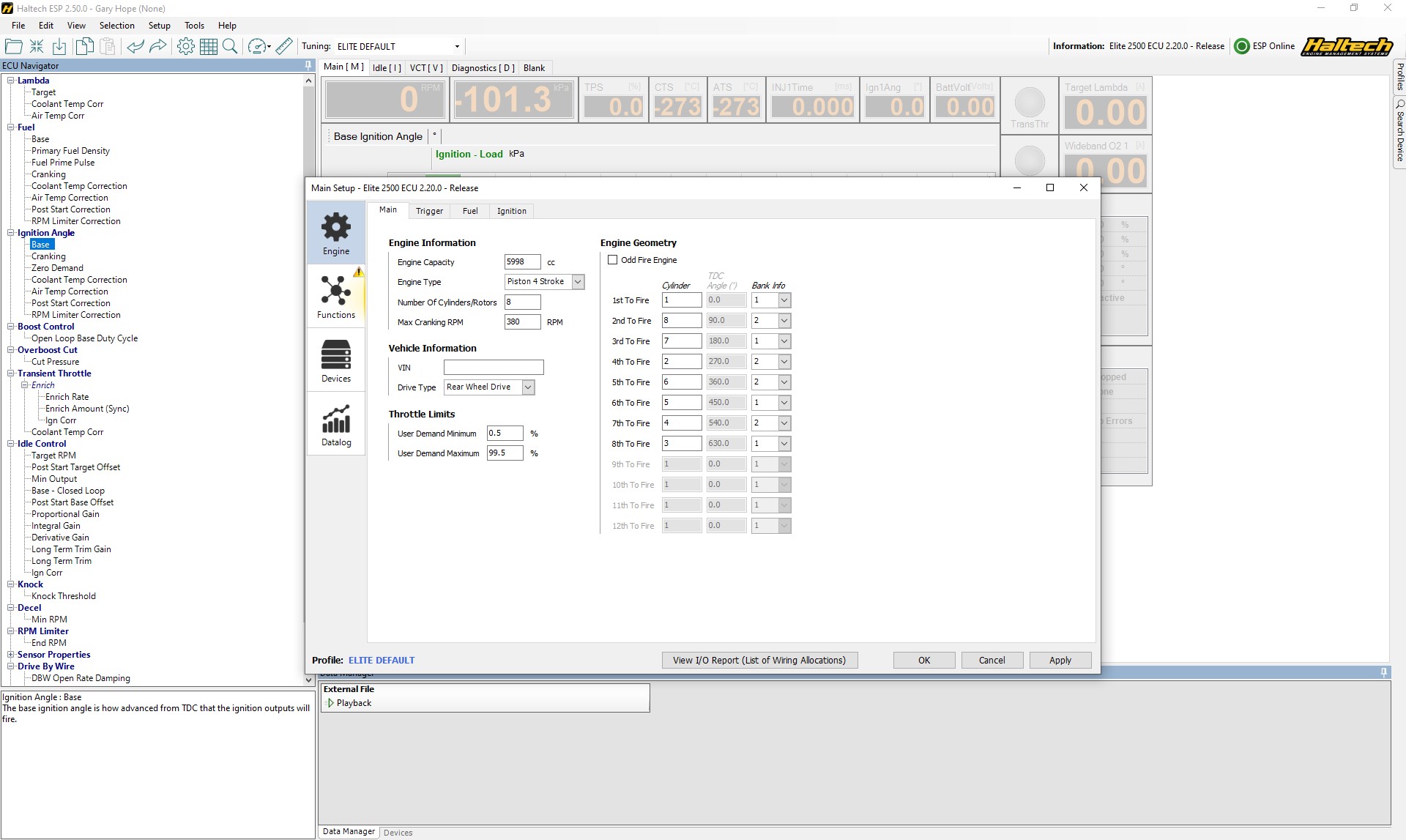 The Main Setup is filled in with the engine capacity, the number of cylinders and the firing order, while the Trigger system information is all filled in to suit the factory GM cam and crank position sensors. This is information that would be impossible for us to put into a default map because we never know what kind of engine the ECU is going on.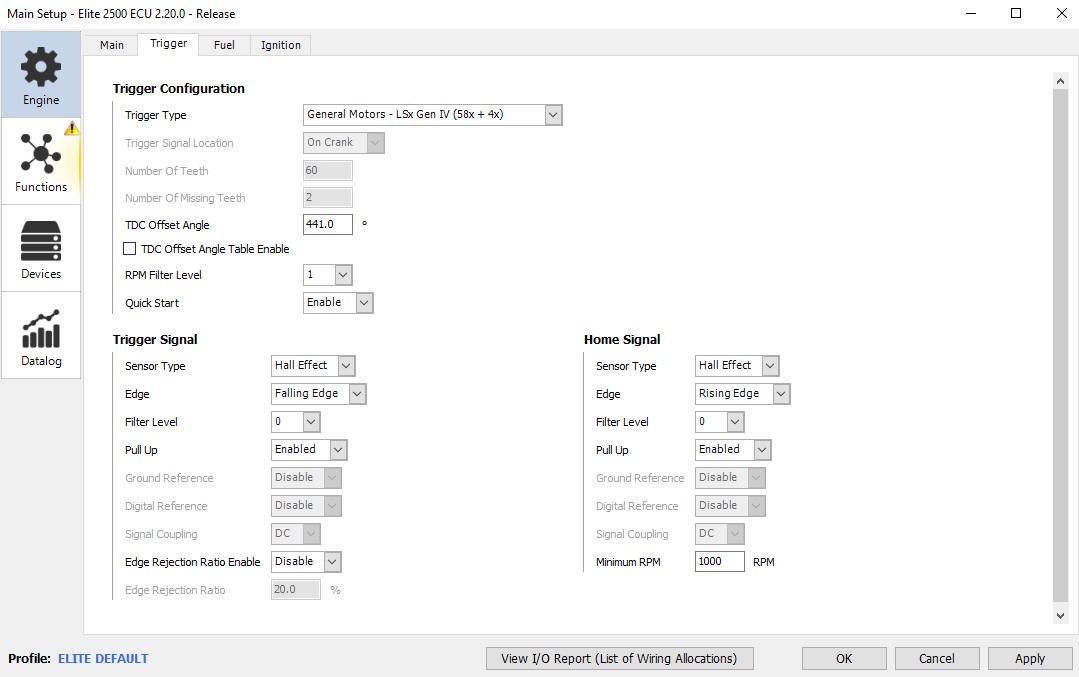 Let's take a look at the Ignition and Injection settings – the number of coils and injectors will already be set up, but there are still things to check.
If you have a stock ignition system the Base Map settings will be fine, but if you have an upgraded ignition system make sure the coil settings and coil charge times are adjusted to suit the new system.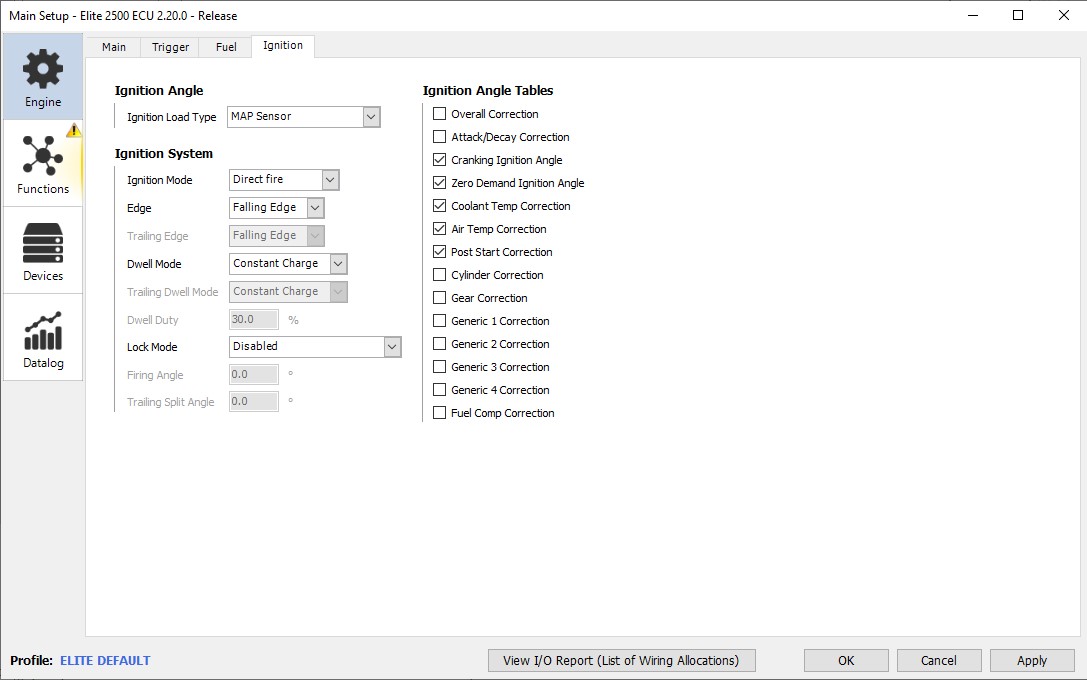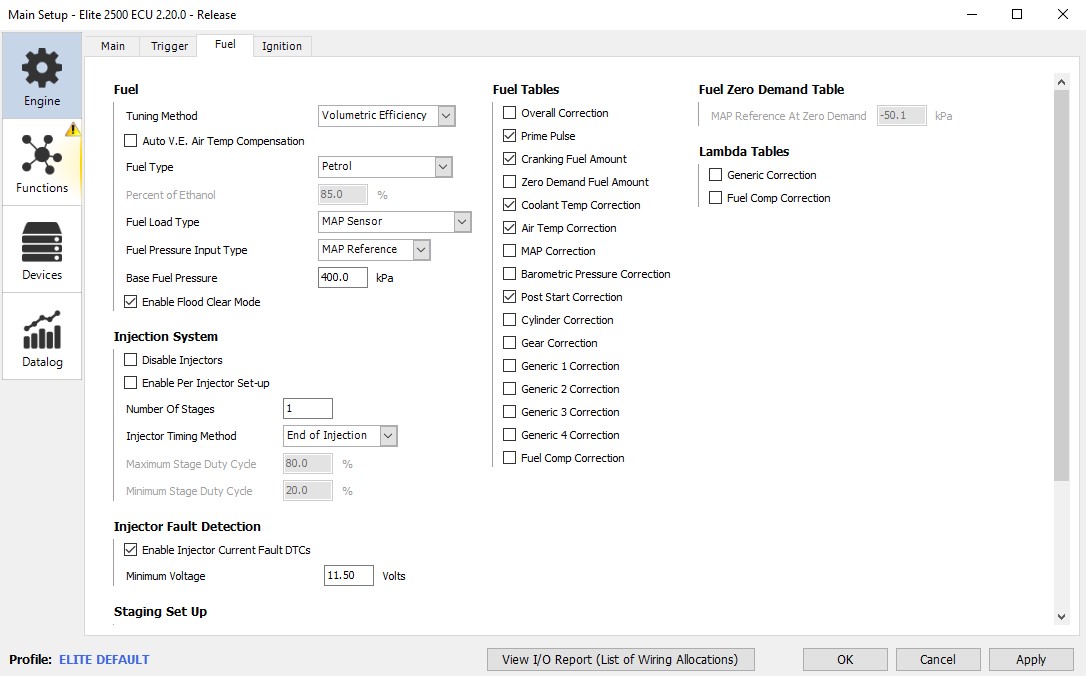 Likewise, Injectors are commonly upgraded to flow more fuel and as such we require the new injector characteristics to be entered before starting the engine.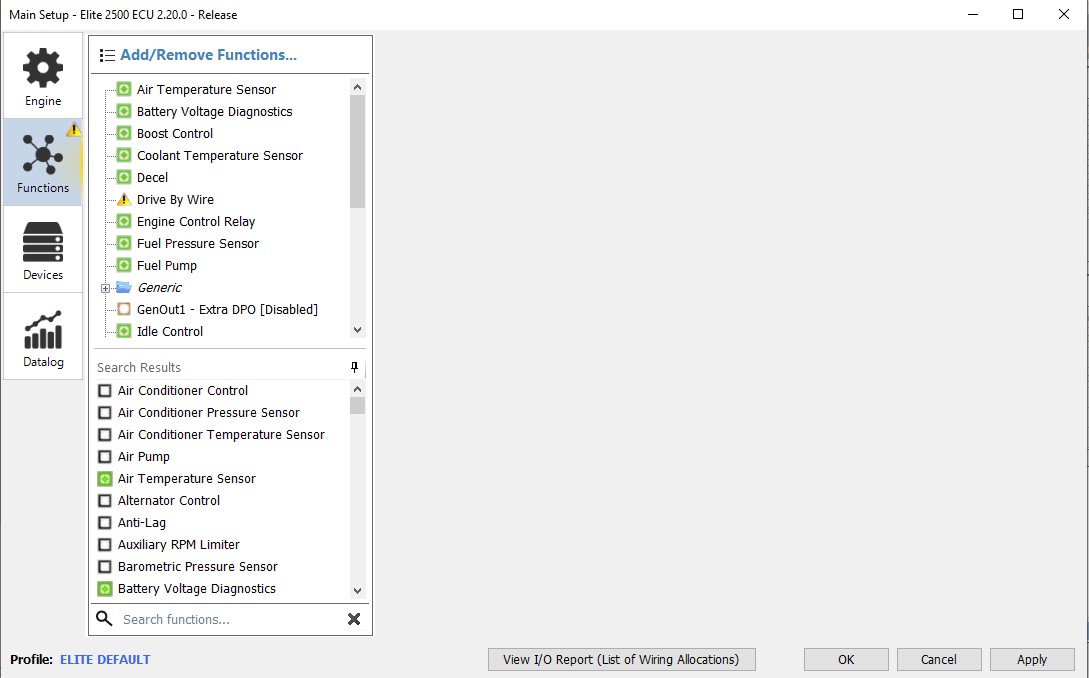 Next is the Functions page with all the inputs and outputs is setup but you need to check the inputs and outputs you've used in your car, against the inputs and outputs configured in the Base map.
If a base map is available for your car it'd be a good idea to open it and have a look at the Input Output assignments before you start wiring, that way you won't have to adjust too much of the base map.
Remember to assign any extra sensors that you have added, Oil and Fuel Pressure sensors, Temperature sensors and Wideband Oxygen sensors are common ones that are not typically set up in a base map because we don't know what inputs they would be wired to.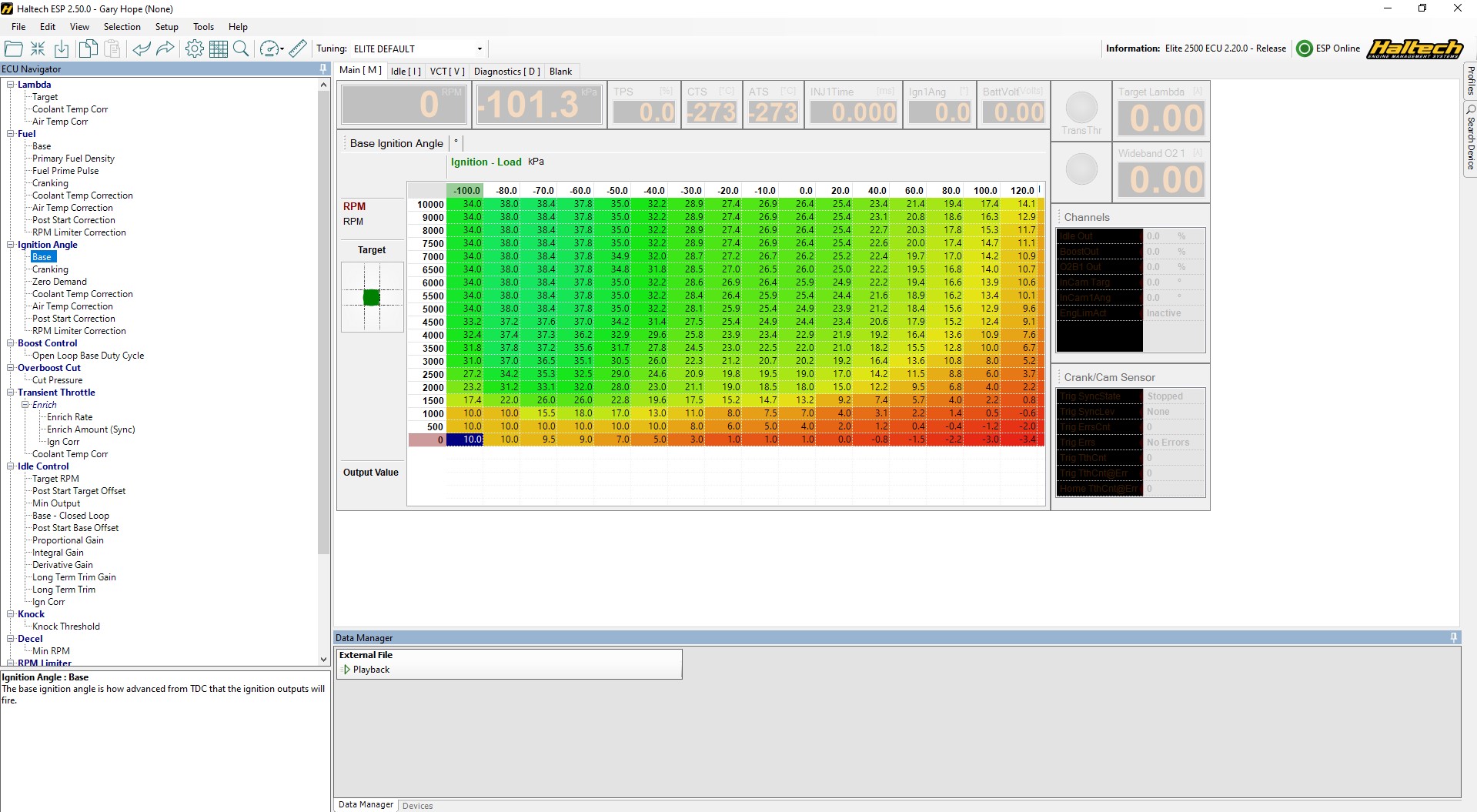 Once you've checked over the Main Setup and Input/Output functions you can then have a look through the Fuel and Ignition tuning tables. A base map will have table axes and values setup to suit your specific engine, but they'll be tamed down and on the safe side.
What to expect from a Base Map

And so we come to the big question – what can you expect from loading a Base Map? You can expect a Base Map to get your engine up and running, to be able to check for fluid leaks, to bleed the cooling system and to move it around the workshop.
Now, Before putting the engine under any serious load it is best to get your tuner to take a look over everything and get the thing on the dyno. Tune it and make sure you're getting the most power out of your pride and joy with as much reliability as possible!
The best way to familiarise yourself with base maps and learn how they work is to try them out. We have included a whole bunch of base maps and actual tune maps for you to play within the Resource section below.
Have fun!